Cutting service of LED profiles and shutters
The price of the service includes:
Cutting of the purchased profile to the indicated length at a right angle or at a 45° angle

Cutting of the purchased profile with the diffuser to the desired length at a right angle or at a 45° angle
NOTE!!!
when cutting at an angle of 45°, specify the longest side of the profile/door and the side (right/left) on which the angle cut is to be made (see fig.1 below);

All cuttings that remain after cutting are sent to the customer with the order;

the cutting tolerance of the profiles/sliders is +/- 0.5 mm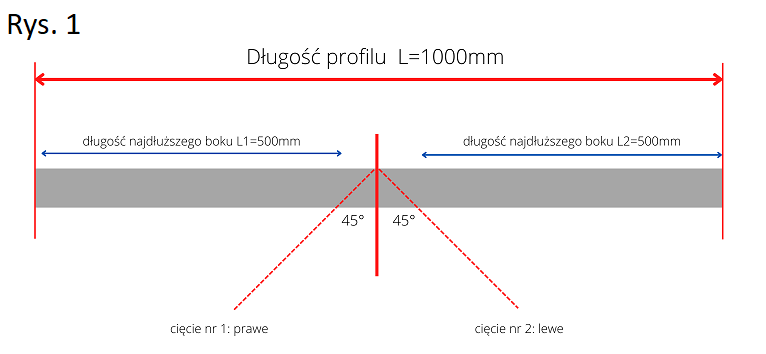 All information concerning the lengths into which the profiles or aperture profiles are to be divided must be entered in a message to the seller after purchase!
You need to add as many cutting services (service pieces) to your basket as you have chosen to divide it, e.g. if you buy a 2m profile and you want us to divide it into 4 sections of 50cm, you need to buy 3x the cutting service. 
We would very much appreciate your thoughtful purchases!
 On the basis of article 38 point 3 of the Act  of 30 May 2014 on consumer rights, we do not accept the return of goods made to individual order!